Why Your Frame Matters
Feb 07, 2022
Hello, Research Strategists:
My first grader wrote about a "safety tip" for school. Here's his safety tip: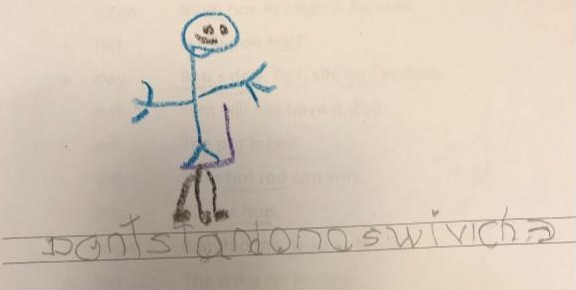 [Picture of a person with text underneath.]
I read the first word as "pants." With this frame in mind, I decided the rest of the sentence said, "Pants and one sandwich." I couldn't figure out how this safety tip matched the figure. After puzzling through, I turned to my partner for help. I asked him which part was the sandwich.
He said, "The first word is 'don't.'" Once my partner said this, I got it. This safety tip says, "Don't stand on a swivel chair." And the figure is a person going against this sage advice. They're standing and grinning wildly on a swivel chair. (Quite a clever picture, if I do say so myself.)
This story showcases a grant writing problem you want to avoid: misleading frames. In this story, my first grader is the grant writer, and I'm the reviewer. Once I got the wrong frame in my head, I went off in my own direction. I couldn't understand the text or the figure. I spent a lot of time puzzling through and creating my own interpretations. That's bad news in grant writing. Confused reviewers get annoyed, misinterpret your work, and lose enthusiasm for your project.
You may be introducing misleading frames in your grant. That's because as scholars, we like to pack in everything we know about a subject. Don't do this in grant writing. Unrelated concepts make reviewers go off in their own directions. Only introduce concepts you will use. That helps reviewers know your frame. Let me show you what I mean.
Creating a Clear Frame
Focus on the populations you care about. Let's say I want to study children for a disaster grant. It will be tempting to also mention cool research on how disasters impact emerging adults. But mentioning emerging adults is a misleading frame. It makes reviewers think my grant will also be about emerging adults. Reviewers will interpret everything I say from that additional frame. Sticking to child literature helps reviewers know children are my focus.
Misleading Frame Example:

Disasters impact millions of children and emerging adults every year worldwide.

Clear Frame Example:

Disasters impact millions of children every year worldwide.
Restate your frame. Let's say I don't want to follow the previous advice. I feel strongly I need to talk about emerging adult research in my grant on children. In that case, I would say why emerging adults are relevant to my frame. That keeps my frame front and center.
Misleading Frame Example:

Research on emerging adults highlights potential risk factors for distress after disasters.

Clear Frame Example

: Research on emerging adults highlights potential risk factors for child distress after disasters. [

Insert evidence here. Then close out the paragraph to highlight the frame again.

] However, research with child populations is needed to understand this key developmental stage.
Pay attention to the line level. Sometimes people understand avoiding misleading frames at the conceptual, big-picture level (like the examples above). But people forget to pay attention to the line level too (i.e., the small details, each individual line of your grant). Every word you introduce in every line needs to be relevant to your point. In my first grader's work above, it only took one word to confuse me (i.e., "pants"). Avoid any words that may confuse reviewers. Let's say in our child disaster grant example, I plan to focus on one outcome, post-traumatic stress symptoms. If I casually mention other mental health outcomes like depression or anxiety, reviewers will get confused. Reviewers will think that depression and anxiety will be part of my main outcomes.
Misleading Frame Example

: Children exhibit many mental health symptoms (post-traumatic stress, depression, and anxiety) after disasters.

Clear Frame Example

: Post-traumatic stress is the hallmark mental health symptom exhibited by children after disasters.
Here's a handout on this topic in case it could be helpful to you. If you're new here and wondering how to get started with grant writing, check out these posts on how to find the right grant opportunities, how to get a grant sample, and how to talk to program officers.
Finally, if you think a colleague would like this post, would you mind forwarding it to them? Many of us feel alone and lost in academia. But we can make academia a place of joy and connection. We create this reality when we share strategies with transparency and expand our networks.
Here's to our bright future!
Betty
Twitter: twitter.com/BettySLai
Newsletter: scholarfoundations.com/newsletter
P.S. I'm thinking of creating a new "makeovers" section in the newsletter. By "makeovers," I mean before and after examples of sentences like the misleading frame versus clear frame examples above. Seeing examples helps you sharpen your editing skills. If you'd like to submit one sentence for "makeover" consideration, please email it to me ([email protected]). I'll keep your name anonymous, unless you prefer otherwise.
P.P.S. Do you have any good ice cream recipes? My sister-in-law gave me her old ice cream maker. It's so much fun. So far we've made pumpkin, oreo, and mint ice cream. I'm looking for new ideas. And also new pants (and one sandwich).